Rats
Recently rats are increasingly kept as pets. This is not as weird as people might think, considering the
fact that rats are very amusing and curious small animals. Tame rats are more docile, more intelligent
and nicer than the brown wild rats. Rats feed mainly on grains, but are also keen on fruit.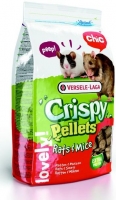 alimentação profissional para as ratazanas, os ratos e os hamsters. Os granulados prensados de forma especial são saborosos e ricos em proteínas. Garantem uma taxa de absorção elevada e uma higiene dentária óptima.